Hi & welcome! I am Karin & I welcome you to join me for some fun & effective body Awakening movements in the comfort of your own home
Exercise and body movement has been part of my life for a very long time. It's been a life saviour throughout my life. Moving our body has so many benefits, not just on a physical level but also mentally and spiritually. I have learnt that through my challenges in life, such as going through a divorce, moving country and going through three major surgeries. Two ankle reconstructions on one foot and more - exercise and movement is important!
The body is meant to move. I think you might have heard the saying: "move it or lose it". I think there is at least some truth to that. I see people in my practice that don't move enough and their bodies are suffering, their minds become weaker and even their health declines. And the thing is, we don't stop moving until we are dead, and until then it's important we do it the way the body will benefit long term and also in the moment.
I started teaching movement classes when I was 18 years old. I have been heavily active and also competed in the sport of rowing on an international level (that was actually the thing that brought me to Australia).
I have worked as a personal trainer, pilates and yoga instructor for many years now and throughout these years I have developed my own unique style of teaching. A movement style that is so beneficial for many. I call it the Body Awakening Movement. I have also written a book titled "Body Awakening - Balance your body, mind & spirit with Pilates and an active lifestyle" and produced three DVDS. You will be receiving a FREE copy of my e-book in this program as well.
These days I assist people in Transforming their lives and wellness through various programs, treatments and through my Coaching/hypnotherapy. Having the "right" mindset is

important too.
I know that the benefits of keeping active, at all stages of our lives, will prolong the quality of our lives. That is of course when it's done correctly, with a correct mindset, focus and control.
I welcome You to join me - in the quest to Awaken your Body. Remember it's never to late to get started. This program will add quality to your life.
You
get to be part of a supportive and lovely community called Body Awakening on
Facebook and also a Chat Group in the membership area.
Community and connection has always been an important part of sustaining the
healthy active habits of my clients through the years.
You can also join me for a Live session via Zoom which will also be streamlined into
our special group. This will be lots of fun if you want that extra encouragement
and support from myself and other participants.
See you one the "other

side"
Karin Hagberg
Founder of Body Awakening Movement Program
Testimonials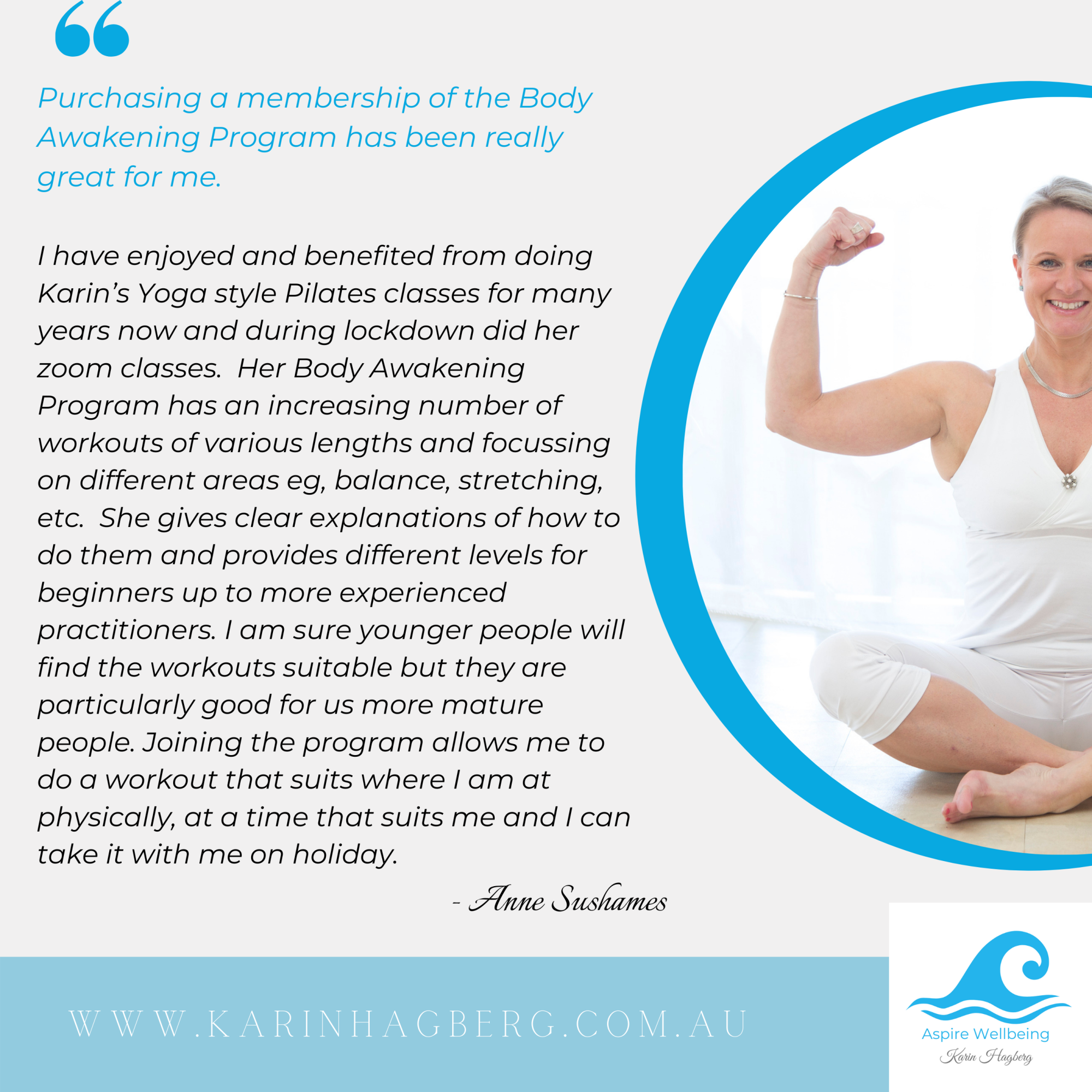 "I see Karin's journey as one of self-development, expression and sharing. Karin is a talented and very
determined person who sets her goals at high standard, always willing to listen and learn from others.
Karin is a special person and very gifted in her abilities as an instructor. It does not matter which
level of attainment one is at (beginner or advanced), Karin comfortably teaches movements with clear
and precise instructions. Continually taking on research as well as incorporating her natural abilities,
Karin has developed and inspiring form of Pilates that allows participants not only two enjoy her
sessions but also develop their own skills and fitness whilst gaining benefits of Pilates."
- Alex R, Remedial Therapist
"It took a serious back injury for my husband to recognise the value of regular exercise.
With Karin's guidance and support our sessions now form an important part of the week.
Her common sense approach has assisted us in maintaining and even regaining balance,
flexibility and strength. These functions are so important for all aspects of our daily lives,
particularly as we age. We believe Karin's principles and practises will allow us to remain
independent and active in body and mind well into the future"
- Sally G, 2007 indoor world rowing champions
"I have been doing Pilates under Karin's instruction for several years and I wouldn't
be without it. It contributes greatly to my strength, balance and flexibility, and is an
important part of my fitness and wellness routine"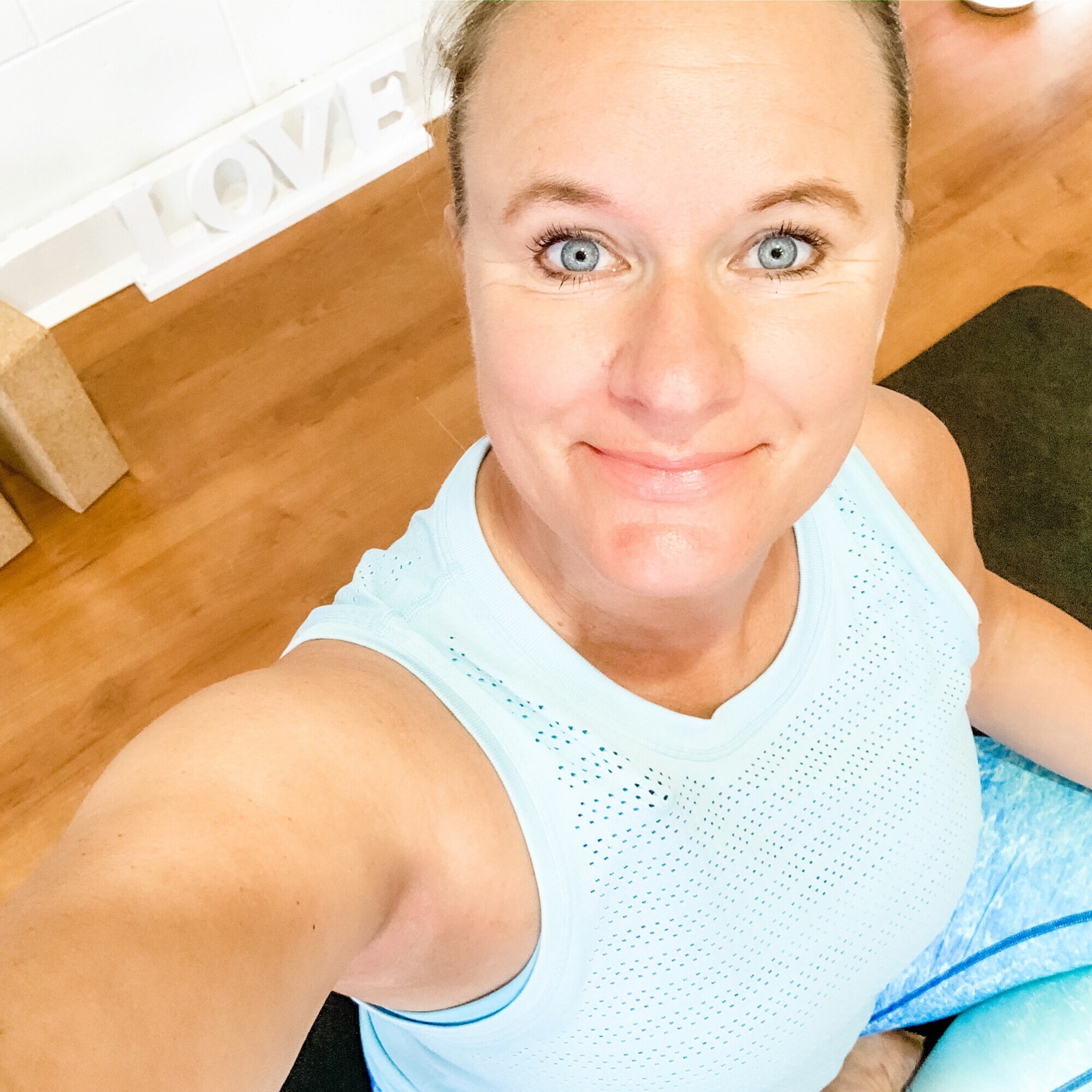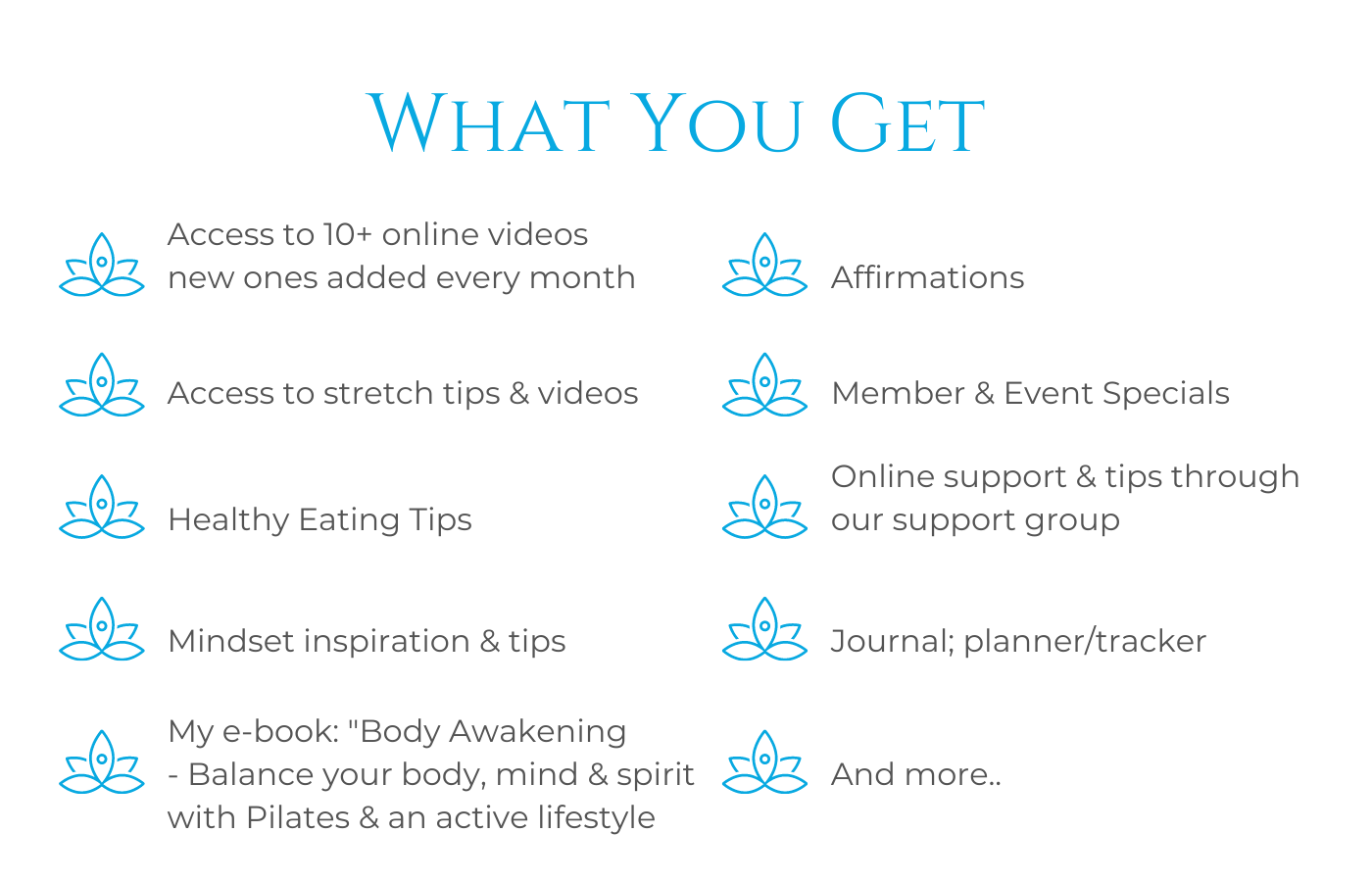 I want to know more about this Movement Program