Jun 2, 2021 05:50 AM Central
Karin Hagberg
Today's recipe for you is a crispy Tofu Stir Fry Bowl.
4 cups (400g) ramen noodles of choice (brown rice ramen noodles)

1 bell pepper (yellow, red or orange)

2 large carrots

2 large bok choy of choice, chopped

10 white mushrooms

2 cups (650g) cauliflower, chopped

1 small onion

½ tsp. sesame oil

½ tsp. avocado oil

½ tsp. chili flakes

3 cloves garlic, minced

4 tbsp. coconut-based soy sauce or low sodium soy sauce



Overnight Tofu Marinade:

12 oz. (350g) extra firm tofu

½ tsp. garlic powder

½ tsp. chili flakes

½ tsp. sesame oil

4 tbsp. coconut-based soy sauce or low sodium soy sauce

1 tbsp. cornstarch
The night before: Cut the tofu into 1-inch cubes. In a bowl, mix the tofu, garlic powder, red chili flakes, and sesame oil. Allow to marinate overnight if possible. If not, marinate for at least 20 minutes.
Preheat the oven to 350°F (180°C).
Place the cornstarch into the tofu mixture and stir well to combine.
Place tofu onto a baking sheet lined with baking parchment, making sure the tofu is spaced well apart and not touching.
Bake the tofu in the oven for 17 minutes or until the edges are crispy.
Chop the red bell peppers, mushrooms, bok choy, carrots, and cauliflower. Mince the garlic and finely grate the ginger. Set aside.
Bring a large saucepan of water to the boil, place noodles into the boiling water and cook as per the manufacturer's instructions, reducing cooking time by minute as the noodles will then be stir-fried later.
Heat a wok or a large frying pan with 1 teaspoon of sesame oil. Add in ginger and garlic and stir for 20 seconds. Then add in all the vegetables, chili flakes and 4 tablespoons of soy sauce.
Sauté the vegetables for 5-8 minutes, stirring often, the vegetables should retain a little crunch.
Add the cooked noodles into the stir fry and sauté for a further minute. Can add more soy sauce to taste if needed.
Serve hot.
Tip: Add more chili flakes to make the dish spicier. To make a
low carb vegetable stir-fry, omit the noodles and double the
quantity of vegetables and spices.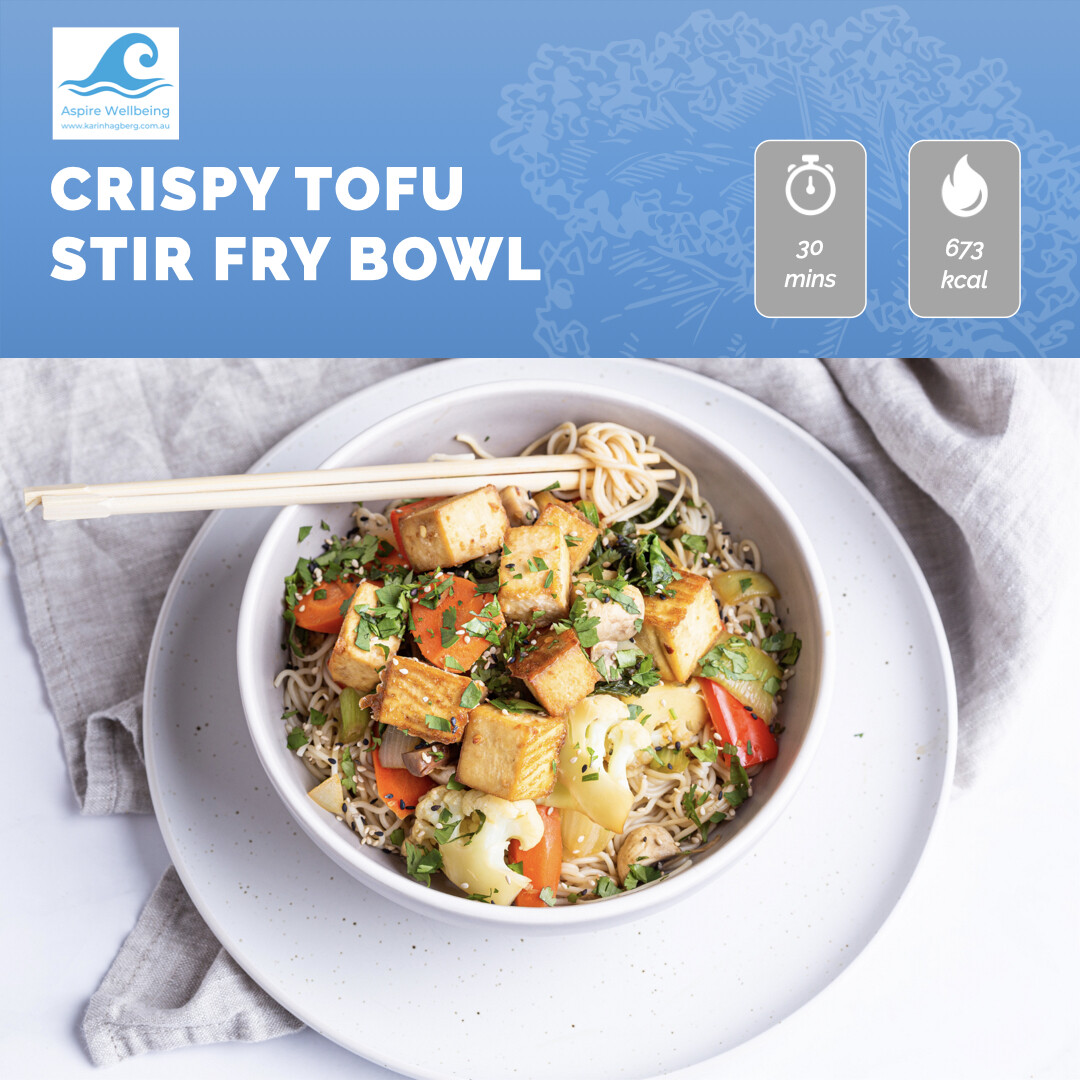 You can now get the PLANT BASED RECIPE Pack with 15 easy, healthy &
easy recipes including breakfast, lunch, dinner, treat and smoothie option.
Click on the image below for more information.