Jun 16, 2020 06:49 AM Central
Karin Hagberg
I am not sure about you....but I love having hot baths.
I find this so relaxing and it gets me ready for a good night's sleep too. It also gets me clean from any energy I may have picked up from clients and people I have seen during the day.
Today I made this amazing Detox Bath Salt that I wanted to share with you.
You can see how it turned out in the picture below. It looks and smells amazing and makes an awesome gift as well.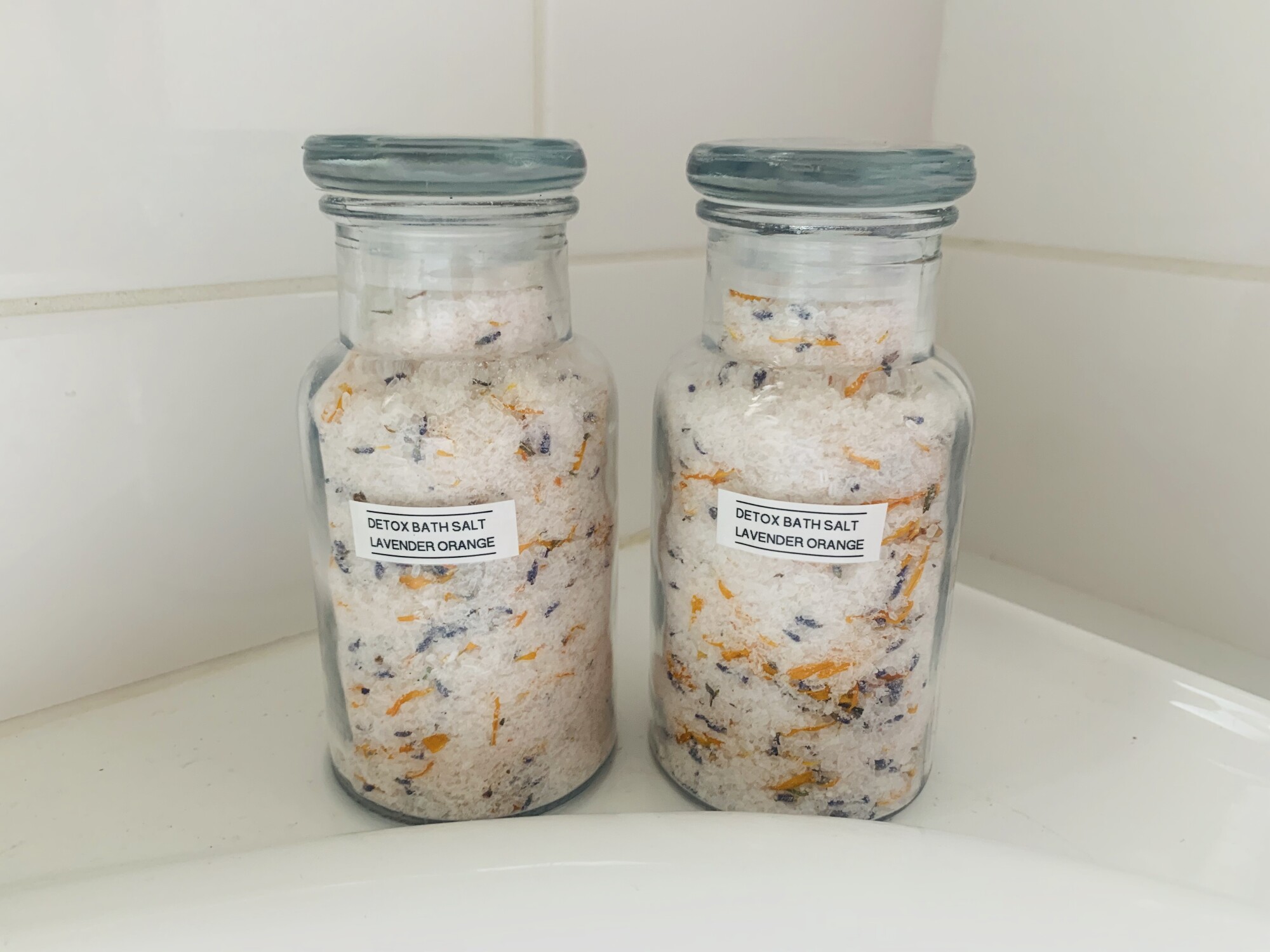 Here are the ingredients:
- 1/2 cup of Himalayan Salts
- 1/2 cup of Bicarbonate of Soda (with no aluminium)
- 20 drops of Orange Essential Oil from Young Living
- 20 drops of Lavender Essential Oil from Young Living
I added all the dry ingredients in a glass bowl and mixed them together and then I added the dried flowers and the essential oils.
It's so easy, it looks and smells amazing!
PS. If you need to get hold of some of the ingredients, including the essential oils - comment below or send me a message.
Karin xx
May 3, 2020 06:25 AM Central
Karin Hagberg
A few years ago I decide to start using deodorants that does not contain Aluminium. I was not keen on applying this mineral under my arms, particularly as there are lymph nodes there. I tried so many different brands and a lot of them had other added things it it, such as perfume or very low quality essential oils. I simply wanted to know exactly what was in it. So I decided to start making my own with beautiful therapeutic, pure grade essential oils that also have a positive impact on your body.
It is so easy to make a natural deodorant and the best thing is that you can add your favourite essential oils.
Here is a simple recipe on how I made this deodorant.
Ingredients:
2 1/2 tbsp Certified Organic Coconut Oil

2 1/2 tbsp Shea Butter

1/4 cup arrowroot

1 1/2 tbsp baking soda

6 - 8 drops of Lavender Essential Oil

6 - 8 drops of Grapefruit Essential Oil

1 - 2 drop os Tea Tree Essential Oil
Start by melting the Shea butter and then add the coconut oils and let it melt together. Once it's melted, add arrowroot and baking soda and then the essential oils. Put it in a glass jar and then in the fridge until hardened.
So simple to make! You can watch the video below and make sure you subscribe to our Youtube channel so you get updated when I post more Health, Wellness and Essential Oils Tips.
May 3, 2020 06:18 AM Central
Karin Hagberg
I love making Roller Blends with Essential Oils.
It is so easy!
This is what you need:
A 10ml Roller Bottle

15 Drops of Frankincense Essential Oil

10 Drops of Sacred Mountain Essential Oils

10 Drops of Valor

10 Drops of Lavender

5 Drops of Sacred Sandalwood

Fractionated Coconut oil, Grapeseed Oil or Jojoba Oil (My choice was Fractionated Coconut Oil)
How to do it:
Add all the Essential Oils into the Roller bottle then add the Carrier Oil (FractiCoconut oil, Grapeseed or Jojoba Oil)
It's easy to get the oils. I pay wholesale prices for my oils, which makes sense. The easy way to get wholesale prices for the oils is by purchasing oils over 100PV (Point Value or to get one of the Starter Packs).
I can help you with this. Feel free to fill in your details below and I will be in touch.