Dec 14, 2022 12:15 AM Central
Karin Hagberg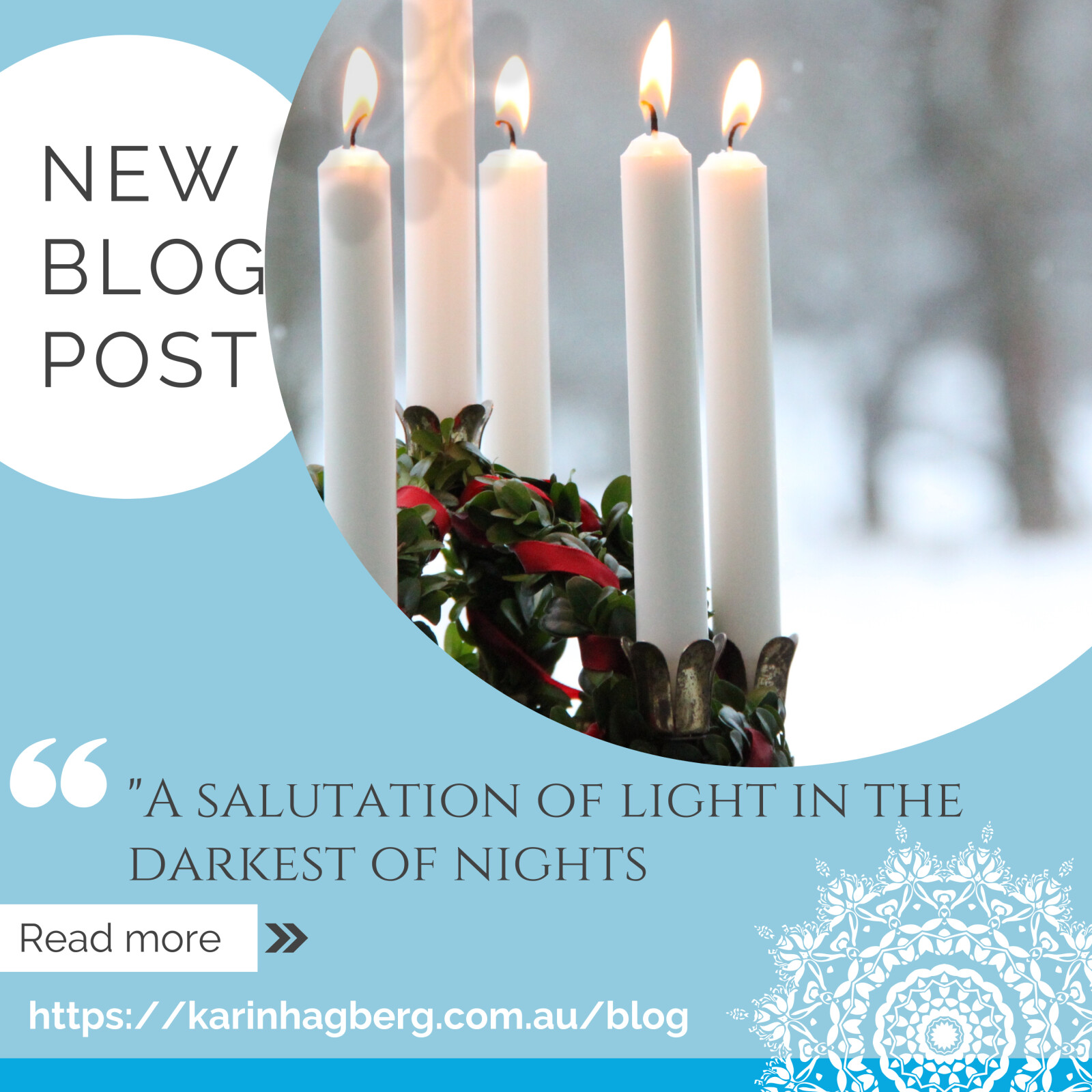 Yesterday was the longest night - the darkest night- of the year in the country I am born. It's so different to the country I am in now - Australia, where you never get to experience that kind of darkness.
But there is also light with having darkness. It's a time when you light candles, bake and do crafty things and connect. You also have way more time to self reflect as there is stillness.
On the 13th of December Swedes have a tradition called Lucia. I used to sing in choirs in churches and that time of year was a big deal. Celebrations used to also take place in schools and other places.. I used to love this time of year, a time of year with lots of candles and lots of singing.
So on the 13th of December Swedish people organise a candle lit procession that is called
Lucia.
The lights become dimmed in the room and the procession takes place. Lucia wears light in her her and a long white gown with a red ribbon around her waist and the girls and boys after Lucia wears long white gowns and holds a candle in their hands. The boys are called star boys and wear a paper cone hat with stars and carry starts on sticks. There may even be Christmas elves and Gingerbread men in the procession. LOL
The procession starts singing before they enter the dimmed room where people are waiting to see them. It's really quite magical. Like any other tradition is comes from somewhere. The Lucia tradition can be traced back both to the martyr St Lucia of Syracuse which died in 304 and also to the Swedish legend of Lucia as Adam's first wife. It is said the she consorted with the Devil and that her children were invisible infernals. The name may be associated with both (light) and Lucifer (Satan) and it's origins are difficult to determine. I choose to to focus on the light - that the light shines towards the darkness and transmutes it. So there you go, there is something behind every tradition.
I will share with you a beautiful video. Enjoy watching this one. It's so special to me.
And remember, anytime we have dark times - focus on the light and keep spreading that. The light can transmute the darkness.
Without darkness we cannot have light and without light we cannot have darkness.
Wherever you are in the world - keep shining - that is the most important thing.
Here is also a video of how the procession is in the churches - this is what I have been part of many times.